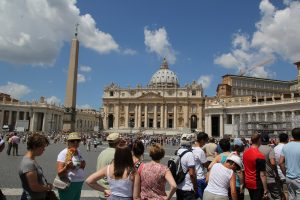 ROME – Italian officials announced plans to spend roughly 1.8 billion Euro, or $1.95 billion, on nearly 100 different projects to update and enhance Rome ahead of what's being billed as a "Jubilee of Hope" in 2025, expected to draw tens of millions of extra visitors to the city.
In a Jan. 12 press conference, Rome mayor Roberto Gualtieri and other officials said that over the course of the next two years, a special jubilee planning committee will oversee a cluster of projects aimed at cleaning up the city and making it more functional ahead of the jubilee.
Set to open in less than two years, the 2025 jubilee will have the theme "Pilgrims of Hope," and is described as a year of "hope and trust" for a world devastated by wars, the COVID-19 pandemic, and increased threats to the climate.
A committee including both Vatican and municipal authorities is charged with planning the event, with the Vatican's efforts being led by Italian Archbishop Rino Fisichella, who serves as pro-prefect of the Vatican's Dicastery for Evangelization.
The first-ever jubilee, called a "Holy Year," was instituted by Pope Boniface VIII in 1300 and was initially celebrated every 100 years. Then, following biblical tradition, it took place every 50 years, and it was finally decided by Pope Paul II in 1490 that jubilees would be observed every 25 years, allowing each person to experience one in their lifetime.
Designed to be a time of conversion and emphasis on God's mercy and forgiveness of sins, jubilees are marked by the opening of the Holy Door in St. Peter's Basilica. Holy Doors at each of the four papal basilicas in Rome are destination points for pilgrims, who pass through seeking special graces.
The last Ordinary Jubilee was the Great Jubilee of 2000, celebrated by Pope John Paul II. The Holy Year of 2025 will be the 27th ordinary jubilee year of the Catholic Church.
A new custom of calling "extraordinary" jubilees, meaning outside of the 25-year rotation, and which can last a few days to a few months, began in the 16th century. There have only been a handful of extraordinary jubilees since, the latest being the 2015-2016 Jubilee of Mercy called by Pope Francis.
Roughly 25 million pilgrims are estimated to have flooded the city of Rome during the Great Jubilee of 2000, which spanned from Christmas Eve 1999 to the feast of the Epiphany in 2001. Around 21 million came for Pope Francis's extraordinary jubilee in 2015.
The Jubilee of Hope, which will come exactly 10 years after the extraordinary Jubilee of Mercy, will begin in December 2024 with the pontiff opening the "holy door" in St. Peter's Basilica, offering the world's 1.3 billion Catholics the possibility of obtaining a plenary indulgence and a year of special graces. The Jubilee of Hope will end on the feast of the Epiphany in 2026.
It's traditional for the city of Rome to exploit a jubilee to roll out much-needed updates and modifications to city infrastructure.
Ahead of the Great Jubilee of 2000, for example, a large new parking garage was installed on top of Rome's Janiculum Hill which has now become a staple for locals who want to avoid the hassle of finding parking on the street. A new express bus line, number 40, also was established, allowing quicker access from Rome's main train station, Termini, to the Vatican area. That line has become one of the most popular routes in the city center.
According to Gualtieri, the spending plan will be concentrated in four different areas: accessibility and mobility; environment and land; redevelopment and enhancement; and reception and participation.
In addition to the initial investment, another $542 million will be spent on some 335 projects already being carried out with the PNRR fund (Piano Nazionale di Ripresa e Resilienza), which is Italy's post-pandemic recovery fund.
The works to be carried out have been described by the government as "essential and non-deferable," and were published in an official decree published following Pope Francis's private meeting with Italian Prime Minister Giorgia Meloni on Tuesday, marking the first time the two had met since Meloni's election last September.
The most expansive part of the plan will be road maintenance, with $216 million allocated to update and remodel several heavily trafficked streets. Several smaller municipal roads will also be redone, with each of Rome's 15 municipalities pitching in $3 million. Sidewalk reconstruction has also been factored in for an additional $27 million.
In one of the most significant projects to be carried out near the Vatican, an underpass will be built allowing pedestrians to avoid a busy street by crossing from the area in front of Castel Sant'Angelo to Piazza Pia, a small square next to the Via della Concilliazione, the main street leading up to St. Peter's Basilica.
The Via del Ottaviano, a popular shopping street near the Vatican that connects to the underground metro, will also be redone, as well as the so-called passeggiata del gelsomino, an underground walkway leading from St. Peter's train station down to the Vatican area, which for years has been dank, grungy, and smelly.
In addition, the pedestrian underpass allowing people to cross on foot the busy Gregorio VII street, where people exiting the train station end up, to the Porta Cavalliggeri on the other side, which leads to the Vatican, will be expanded.
St. Peter's train station itself and the small square in front of it, situated on a small hill within walking distance of the Vatican, will be redone and a large indoor market near the Vatican area, in the Piazza dell'Unita, will also be remodeled.
Two new parking garages are scheduled to be built, one of which will be located in the Piazza Risorgimento sitting along the Vatican City walls, and the other near Castel Sant'Angelo.
A nearly 2-mile bike path will also be established in the area, and green areas near Castel Sant'Angelo, the Vatican and St. Peter's, and each of the city's three other papal basilicas will be redeveloped.
Some $19.5 million will be spent to increase security and surveillance near the Piazza Cinquecento, where violent crime has recently increased, and at Rome's main train station, Termini, where many homeless sleep at night and which is often associated with petty crime.
Platforms on the tracks of Termini station, and the area surrounding Termini, including the large nearby Piazza della Repubblica, will also be updated and redeveloped. Some $4.3 million will be spent redoing routes into the city from Rome's Fiumicino airport.
In terms of public transport, $65 million will be spent on revamping the city's metro and bus systems, specifically the A-line of the underground metro, which stops near the Vatican and also passes by Termini station.
Roughly 30 new trains will be purchased and added to the rotation, with ATAC, the national transport company, overseeing the purchase as well as updating railway infrastructure throughout the city. The city of Rome will purchase an additional three trains for other metro lines.
Public transport above ground will also get a makeover, with additional millions allocated for the purchase of 110 hybrid busses and 244 12-meter methane buses, which will be added to the roughly 755 new vehicles already budgeted in the coming years.
ATAC says it will aim to improve arrival and departure times, as well as installing electronic poles and smart shelters in waiting areas to provide updates on bus arrivals in real time. When all is said and done, there will be some 840 bus stops near Vatican City, each of the papal basilicas, and other places of interest.
Jubilee preparations also include a plan for reception centers and increased security along Rome's Tiber river, with work expected to be done on the bridges connecting one side to the other, as well as improvements to lighting and green areas.
A system of 'pilgrim paths' will be established for suburban churches and places expecting to host pilgrims, including the Santa Maria della Pieta youth hostel and a center for people with disabilities in Pietralanta, allowing visitors clearer information on places to stay and how to get around the city.
The PNRR fund also aims to promote sustainable tourism in Italy, which has been rolled into preparations for the jubilee. As part of this plan, new routes connecting historical sites will be established and monuments and churches that are often overshadowed by the more major tourist attractions will also be enhanced.
Italy unveils ambitious spending plan of nearly $2 billion for 2025 Jubilee