When Constantine's arch has been examined closely using a lift, there are no Christian symbols found
The historical St John's of Lateran where in 1929 Rome received again its own autonomy (the deadly wound was healed Rev 13:3). In Latin says mother of all churches of the world: see Revelation 17:5. Mystery Babylon the Great…
Looking across the pine cone court yard, under which is a nuclear bomb shelter & has held CIA military documents post WWII. Working against their common enemy- communism 
In 1854, Pius IX decreed the doctrine of the Immaculate Conception to be infallible
Rev 18:12 In her is found the merchandise of gold, and silver, and precious stones, and of pearls, and fine linen, and purple, and silk, and scarlet, and all thyine wood, and all manner vessels of ivory, and all manner vessels of most precious wood, and of brass, and iron, and marble,13 And cinnamon, and odours, and ointments, and frankincense, and wine, and oil, and fine flour, and wheat, and beasts, and sheep, and horses, and chariots, and slaves, and souls of men.
Found opposite St john of Lateran is Scala Sancta a set of 28 white marble steps. According to Roman Catholic tradition these were the very steps leading up to Pontius Pilate residence. Luther was one day devoutly climbing these steps on his knees in penance, when suddenly a voice like thunder seemed to say to him: "The just shall live by faith." Romans 1:17. He sprang to his feet and hastened from the place in shame and horror. 
One of the main themes of the prophecies of Daniel & Revelation is Rome
In the eucharistic prayer, the church asks God the Father to send the Holy Spirit upon the bread and wine on the altar so that by his power they may become the very body and blood that Christ offered on the cross- transubstantiation. This is a pagan ritual. Mithraic sacraments also included cake and Haoma drink as also Egyptian rituals involved eating the body and blood of a god.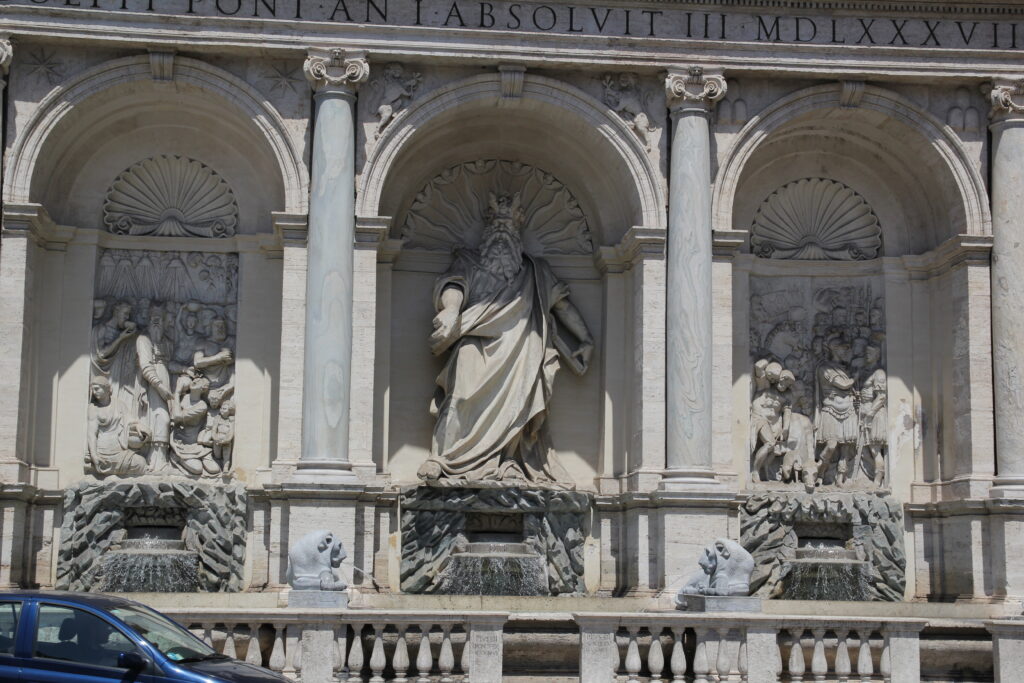 Julius II (the warrior Pope who) tomb by Michelangelo which never made it to St Peters Basilica but St Peter in chains. The Pope reportedly had several mistresses and at least one illegitimate daughter (some sources indicate that he had two other daughters who died during childhood). In 1511, a council brought charges of lewd sexual acts against him, alleging that he was "a sodomite covered with shameful ulcers." 
The Passetto di Borgo, or simply Passetto, is an elevated passage that links the Vatican City with the Castel Sant'Angelo … Clement VII escaped to safety through this passage during the Sack of Rome in 1527, when troops of … Emperor, Charles V, massacred almost the entire Swiss Guard on the steps of St Peter's Basilica.
Venice is a one in a kind city built in the sea on reclaimed swamp. People settled here to escape the Attila's attacks from the North
It appears that on arrival we step on to stone but the buildings have thousands of poles of petrified wood used to hold up the buildings. Marble is placed on top of this. its an amazing feat!
sophia hagia symbolic of two rival powers apostate Christianity & Islam. King of the North & King of the South
"There is scarcely so uniform an agreement among interpreters concerning any other part of the Apocalypse as respecting the application of the fifth and sixth trumpets, or the first and second woes, to the Saracens and Turks. It is so obvious that it can scarcely be misunderstood. Instead of a verse or two designating each, the whole of the ninth chapter of the Revelation, in equal portions, is occupied with a description of both. Uriah Smith
Revelation 9: 7 And the shapes of the locusts were like unto horses prepared unto battle; and on their heads were as it were crowns like gold, and their faces were as the faces of men.8 And they had hair as the hair of women, and their teeth were as the teeth of lions.9 And they had breastplates, as it were breastplates of iron; and the sound of their wings was as the sound of chariots of many horses running to battle.10 And they had tails like unto scorpions, and there were stings in their tails:
The Bosporus is an important trade route for gain & oil. Whoever controlled these waters had control of this key kingdom in the world where East met West. Istanbul no longer had control of its waters after 1840 where foreign powers legislated its fate.
The Oxford Martyrs, Cranmer, Ridley and Latimer, were burnt at the stake here in 1555 & 1556. You can see this Martyrs' cross in Broad Street while tramped under foot will yet again be a light to God's kingdom. Said Latimer 'Be of good comfort, Master Ridley, and play the man; we shall this day light such a candle by God's grace in England as shall never be put out'. Cranmer the Archbishop of Canterbury gave his right hand into the heart of the fire while saying "that unworthy hand for his former compromise..
Church of Saint Peter in York site recognizes this as the place Constantine the Great was crowned Emperor. The site also recognizes Miles Coverdale the Bible translator. Fawkes was baptised at the church of St Michael le Belfrey, York, next to York Minster. In 1604 Fawkes became involved in a Jesuit plot, led by Robert Catesby, who planned to assassinate the Protestant King James